The Delivery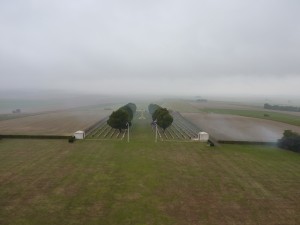 "What are your expectations?"
Stepping off the train in Amiens, France, I was excited if not a little anxious as I made my way out of the station to meet our guide, Sylvestre and his question that I was expecting.
Did I have any expectations? Should I have any? It was obvious I had more questions than expectations. "I don't know," I replied with a hint of embarrassment. He shrugged.  I guess I wouldn't be exceeding his.
I sat quietly in the vehicle pondering. The two letters that I had carried from home sat safely inside the bag. I began to think about my expectations. I expected to deliver the letters to my great uncles. I expected to be touched by doing so. I expected the day and visits to the cemeteries to be an emotional experience. I expected there might be tears hopefully some would be mine.
What I expected and what I got were as wide as the Somme itself.
Driving through the French countryside I couldn't help but see how serene and peaceful it was although I had the feeling that at any moment my life could possible change.
"Potatoes," Sylvestre answered my unasked question.
I smiled as I looked out at paddock after paddock.
"The French have the best," he continued proudly.
"Do you export?"
"No we keep them for ourselves we only export things we don't like."
I laughed and before long he parked the car. The drizzle that greeted our arrival at the Australian Memorial seemed appropriate. I stared up at the imposing memorial and as he began to speak it hit me that I was actually standing in a place that many years before was the scene of such carnage and mayhem. I was struggling to keep it together. My eyes rested on the rows of white headstones. They were lined up like soldiers out on the parade ground.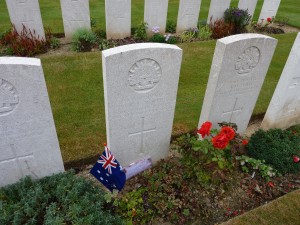 Slyvestre leaned closer. "You are on Australian soil now."
I nodded my head in understanding even though I didn't understand. The names saddened me, the ages brought the tears to my eyes and the 'unknowns' had me turning away.
"Your unknown soldier in Canberra?" He spoke interrupting my thoughts for which I was grateful. I looked to him I understood exactly what he was saying for I have visited the tomb myself.
"He came from here."
I frowned. I looked over to where he indicated. I never thought about where he came from. It had never entered my mind and now I was being told that instead of being here with his mates he was all alone in Canberra suddenly it felt wrong.
Good intentions have never been a favourite of mine and by the time the day was out I was to see how very wrong good intentions could be.
I climbed the stairs of the memorial and looked out over the headstones and beyond. The colour green struck me. I wondered if the green seemed greener because it snaked in and out of the whiteness of the headstones. East West North and South the beauty was astounding. I looked further afield through the light mist to see the excavation taking place. It was a stark reminder that they were still today searching for the fallen. "They will always be looking," Sylvestre said matter of fact. That offered me little comfort.
The ensuing silence was welcomed. I needed to gather my thoughts. I was struggling and I hadn't even got to my uncles graves.
Our visit to the Victoria School and museum ended all too soon and then it was time to deliver the first letter to my great uncle Ossie. I looked to the envelope adorned with a poppy and an Anzac badge courtesy of the Mildura RSL and made my way into the cemetery.
"Do you have a flag?" Sylvestre asked.
I shook my head. I couldn't get one. He went to the back of the vehicle and took out a flag. Somehow I wasn't at all surprised. It took only a few minutes to locate the headstone we were looking for. I placed the envelope and the flag and ran my hand over his name. I didn't say anything. Everything I wanted to say was inside the envelope.
We then went to what is dubbed 'Young Australia's Darkest Day' 5000 lives lost in a single day. I looked out over the fields that had seen so much death so much so that the Germans and Aussies agreed to a ceasefire. The British High Command refused. The killing continued. It was here we heard the story of the Aussie taken prisoner. His wounds had him at the German hospital where he was able to write a letter home to his mother (I saw a copy of the letter) saying he was being treated well and was hoping to be discharged soon. He died two days later.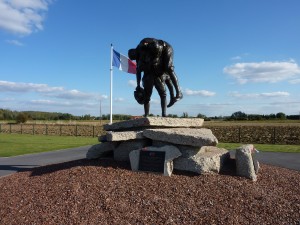 A few hundred metres down the road we stopped again at VC Corner I noticed the two large concrete crossed laying flat on the ground. They were surrounded by over 400 rose bushes. I was soon to learn that each bush denoted one Australian death. There are no headstones as they are all unknown. It was one the most serene, beautiful cemeteries' I have ever seen. I signed the remembrance book where I was told former Prime Minister John Howard and his wife had signed previously.
Another stop had us looking at another monument. I waited for the explanation. I knew there would be one. "This isn't the original monument," he began, "It was replaced. It depicted a solider attacking an eagle with a bayonet. WW2 the Germans took exception to the statue and blew it to smithereens."
I smiled.
"They never damaged any headstones in WW2."
I could see the irony in the Nazi's having more respect for the dead in WW2 than they ever did for the living.
"The Germans always had the higher ground." He continued, "Always." He took us to a German cemetery next. I looked at the 11000 gray crosses. There were no flowers. It was dark, bleak and terribly uninviting.
"Do you notice anything?" he asked.
It's ugly I wanted to say but somehow I knew that wasn't the answer he was after.
"Have a look where the British and Australian cemetery is."
We looked a kilometre away. I noticed it was situated on higher ground. I smiled and left the cemetery closing the jet black gate behind me.
After lunch and after gathering our thoughts we were on our way once more. Sylvestre spoke "Hitler was injured here."
I looked out of the window.
"He lost a bit of his… how do I say this, appendage."
I smiled.
"Three times he was injured."
I nodded thinking it was a pity they missed.
"Watch your step," I was warned at our next stop. I thought he meant the mud but it was the three live bombs resting against a statue of Jesus that had me watching every step. I was soon in a field searching for shrapnel. It didn't take long the place is littered with it. Farmers are still getting injured just last year one was gassed. He handed over the shrapnel and suggested I take it home. I refused. He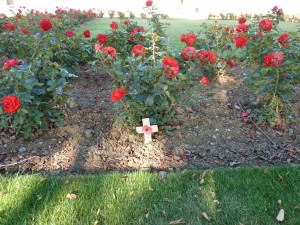 insisted.
It was time to deliver the second letter. I stood in front of Uncle Alfred's headstones pondering. The workers mowing the lawns came towards us. They turned off their machines and waited for me to finish. I thanked them. A gentle breeze had me believing that he somehow knew that I had come. And then our day ended in Lille.
The first question I was asked was what were my expectations? Now it was how did I feel? An array of emotions consumed me I felt sad, proud and honoured. Along with the sadness and the pride I think I will remember the colours the most the lush greens, the redness of the roses and the poppies and whiteness of the headstones.
War changes everything. So does peace.