For Queensland
Growing up as a New South Welshman there are rules that are adhered to.  Under no circumstances do you drink XXXX as you would be considered a traitor and even threatened with being run out of the state. You will barrack for the NSW Blues affectionately known as cockroaches in State of Origin footy and you will never ever marry anyone from south of the border. I married a 'Mexican.' Lucky for me I had earned enough bagging Qld points to stay in NSW.
My 'Mexican' was a one eyes St Kilda supporter, which only had my family and I scoffing at him. "You call that football?"
We decided it was our democratic right to show him that in our State our men were men. And there was no better introduction to real footy than State of Origin.
Parramatta Stadium was the scene of the battle and in a sea of blue he wore green. I didn't hold out much hope of our relationship continuing especially when he declared that he was going for Qld. "Get rid of him," my brother demanded between clenched teeth.
The 'We don't give a XXXX' went around the ground and nothing stirs up the enemy more than bagging out their beer but when you are fully entrenched in the middle of suburban Sydney consider it a must.
We were seated close to the try line and a kid was debuting for Qld. The kid's name was Kerry Boustead, his stats were impressive and his age was listed as 19. Looking at him I had my doubts he looked twelve although I got a good look at him that night he scored a hat trick of tries right in the corner where I had a bird's eye view. We got our proverbial kicked that night. The only smile that night was the one the 'Mexican' wore as we left the ground.
Over the years we have ventured into enemy territory many times. We have witnessed Wally Lewis rip the heart out of NSW. We have struggled with our beer choices – NSW serves Tooheys Blue and Qld serves XXXX. State of Origin it not the time to say that you prefer VB. I have watched my 'Mexican' turn into a Blue so much so that one time he got carried away and began to bag out King Wally which is okay except we were in Qld it wasn't exactly a smart move.
There is nothing like State of Origin.
The thunderous roar when the teams take the field is probably why there are no roofs on.  The parochial chanting drowns out any chance of conversation with the person seated beside you. You can taste the atmosphere.
I have been to Lord's to the MCG and many other grounds, and except for the Sydney Olympics nothing has ever come close. That roar can lift you from your seat.
State of Origin is in the blood.
Queensland is facing another battle now this is the battle to end all battles and this time no full time whistle from the referee is going to end the fight they are in.
Water, our most precious resource, has turned on Queensland and destroyed everything in its path.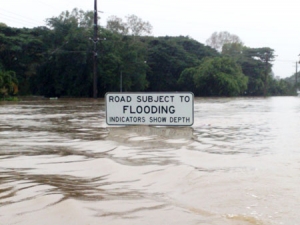 The Brisbane River has always reminded me of that lazy, faithful dog who sleeps at the back door and you have to nudge it with your foot to get it to move and more often than not it just opens one eye gives you a look of disdain and closes again but this week the lazy dog turned feral and the city was under siege.
Queensland will recover.
We might get the shoulder charge once in a while but we pick ourselves up, dust ourselves off and carry on because that is who we are.
The word hero is thrown about so much these days that it is almost considered a cliché. To have a hero you first must have a disaster and we seen both this week.
There are hundred of heroes some will never be known but for three people their feats will forever remain with me the first being the courage shown by a young boy who facing the most a dire of circumstances told the rescuers to take his brother first, the boy was swept away to his death.  The second was watching Doug the tugboat operator manoeuvring 300 tonne of the concrete walkway down the river and under the Gateway Bridge and the third was the man who refused to let the kangaroo drown because in his own words "Can't let a part of the Coat of Arms die." The second and third were symbolic gestures but in the midst of a disaster symbols are sometimes just what is needed.
We are the lucky country for a good reason and you only had to see that this week. There is a spirit that comes automatically with being Australian. It cannot be bought it cannot be exchanged nor can it be given away.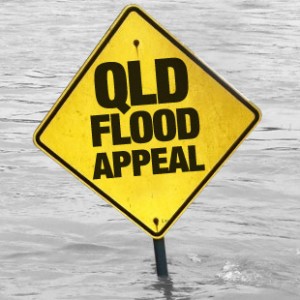 We are born with it.
It is that spirit that makes us the envy of the world over.
And it is that same spirit that has got us through the worst of times. And it is the same spirit that will get us through disasters in the future but for now our fellow Australians need our help.
Lasting impressions are what counts when it all is done and dusted so when the mud is cleared, the debris is cleared, the power switched on, the roads and railways are repaired, businesses are back up and running, homes are rebuilt, it will be the little boy who told the Prime Minister that he had saved the caterpillar from the flood that will continue to make me smile.
That same little boy could one day run out onto the field at Suncorp Stadium wearing a maroon jersey and as he waits for whistle to start the game and he stares with intent into the eyes of his opponent and as he is doing his level best to tear the heart out of my beloved Blues I hope he remembers the day he saved the caterpillar.
So tonight I will have a XXXX to show that I do give a XXXX.